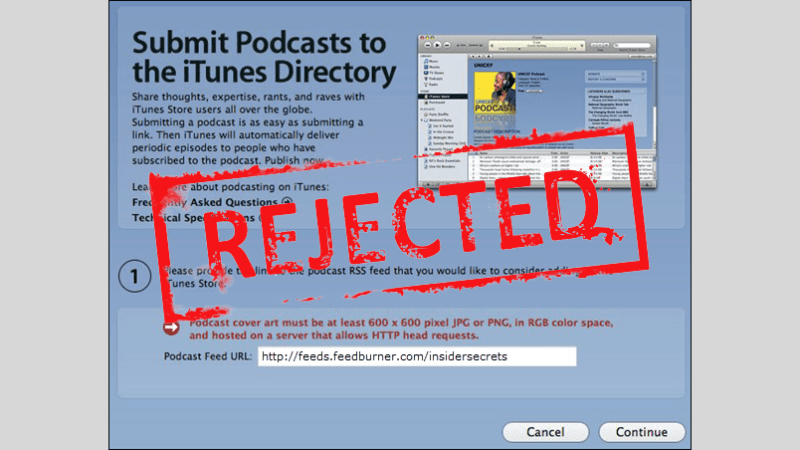 You've worked weeks on your new podcast. You've done everything right. You've created attractive cover art. You're ready.
You submit your podcast to iTunes. And… you get the dreaded "Dear podcast owner, the following podcast has not been included in the iTunes podcast directory" e-mail.
The good news is that there are usually just a few reasons why a podcast gets rejected by the iTunes podcast directory (and they're easy to fix).
1. Your title tag is missing
If you forget the title tag in your RSS feed, your podcast will be rejected. This is a surprisingly common mistake and, luckily, an easy one to fix!
2. Your RSS feed is broken
Did you know that iTunes gives you the ability to test your podcast RSS feed before you submit it?
Open the iTunes program on your computer
From the File menu dropdown, click on Subscribe to Podcast
Put the URL of your podcast feed in the box and click OK
This is a great little-known way to preview your podcast before you submit it.
3. Your cover art is in an unrecognized format
If you've had your cover art designed by a professional, they may have sent you several different image formats including:
Adobe Illustrator (.ai)
Photoshop (.psd)
CorelDraw (.cdr)
Encapsulated PostScript (.eps)
Adobe Portable Document Format (.pdf)
If you upload any of the vector formats above, they will not work. The only image formats that iTunes accepts are:
Your podcast cover art image must be at least 1400 x 1400 pixels (and not more than 3000 x 3000 pixels). Cover art with other dimensions will be rejected. If you're unable to resize them appropriately, have your graphic designer create the appropriate image size.
4. You already submitted a podcast with the same URL and title
If you (or someone else) has already submitted the same URL, iTunes may see it as a duplicate. This error is commonly encountered when you resubmit your feed after a previous error. Sometimes the easiest way to fix the problem is to change the title slightly. If you're using a WordPress plugin to manage your podcast such as Blubrry's PowerPress, this is very easy to do within the plugin's control panel.
Another option is to change the feed URL (which is easy to do if you use a free service like Feedburner).
One issue that's a little tricky to resolve is when, for whatever reason, you're unable to change your RSS feed. If someone else submitted a Feedburner feed and you don't have control of the account, it's possible that you won't be able to make modifications. In this case, the best thing to do is contact iTunes directly by e-mail at [email protected].
5. Your podcast violates Apple's terms
Apple is pretty strict (relatively speaking) about the quality of the podcasts they accept. Here are places where you can run afoul of their policies:
Using Apple's intellectual property
Apple doesn't want you to use their intellectual property in your podcast title, description, or URL. For example, using "iTunes," "Apple" the Apple logo, etc. will cause your podcast to be rejected.
Using a another brand's intellectual property without permission
If you use trademarks from famous brands without permission, you risk legal action from those trademark holders.
Inappropriate content
While iTunes does approve podcasts with mature subject matter, you cannot use images that depict sex, violence, drugs, etc. Apple will also reject podcasts that advocates discrimination based on race, gender, or sexual orientation.
Mature/explicit content without marking it as explicit
In some cases, Apple has removed podcasts from the iTunes podcast directory even if only one episode has questionable language and your entire podcast is not marked as "explicit." Play it safe. If you think you might slip in the occasional F-bomb, then mark the entire show as explicit in your feed.
Whatever changes you make, keep in mind that they can take up to a day to appear on iTunes — so be patient!
The following two tabs change content below.
Matt Thomas
As a successful online entrepreneur since 1999, I'm happy to offer you my personal experience and practical expert advice to help you start and grow your online business.
Contact me
or follow
@insidersecrets
.
Latest posts by Matt Thomas (see all)