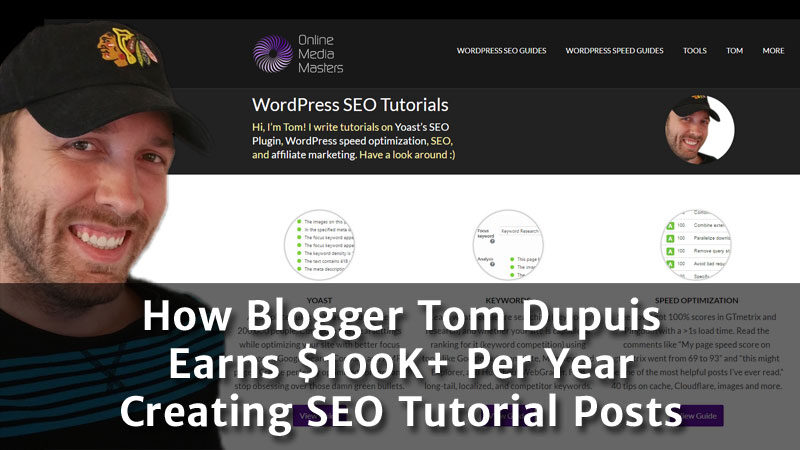 I found Tom Dupuis's website, Online Media Masters, like most people do: I Googled a little problem I was having with my blog caching plugin. Sitting at the top of the search results was a post he'd written that had exactly the answer I was looking for.
Problem solved!
Tom's whole site is devoted to identifying problems that almost every blogger faces and he's written tutorial posts on his site to help you solve them. He doesn't launch into a sales pitch or plaster his posts with a dozen affiliate banners. Instead he creates step-by-step guides outlining the little fixes people need to make to speed up their sites. One of those fixes is making sure they have good web hosting — and if a visitor switches web hosts using his affiliate link, he makes $150.
That — in a nutshell — is how Tom makes over $100K a year.
I reached out to Tom and he agreed to share a "behind-the-scenes" look at his online business with you. Don't worry, he's not out to sell a book or get you to buy some internet marketing product — he's just a friendly guy who enjoys helping people out. Enjoy the interview — there's lots of good information here!
How did you get started in affiliate marketing and how did you get the idea for Online Media Masters?
I started Online Media Masters right after college as a WordPress design service, then moved towards WordPress SEO,  and then WordPress speed optimization. Now I help people make their WordPress site load faster while referring them to great hosting.
I wasn't happy doing client work and wanted the freedom that came with affiliate marketing. I took a leap and dropped my clients (all but 2) and focused my attention to my blog. I was making $500/month referring people to WordPress themes using "lists posts" but knew that wasn't adding value and going far. I didn't see many great affiliate opportunities for SEO.
So I wrote my first "speed optimization" tutorial on the W3 Total Cache plugin while adding a section at the bottom of the post referring people to SiteGround's hosting. That one post was getting 100 visitors/day which resulted in about 5 sales/month with SiteGround. They said if I got 31+ sales/month, I could get $150/sale. So I needed to write more tutorials on website speed, which is what I did.
You made $80,000 with SiteGround's affiliate program in 2017. You made almost $15,000 in just March, 2018. Those are amazing numbers. Simple question: how do you do it?
Content creation was by far the most time-consuming part. I revised some of my tutorials well over 100 times to make them as perfect as possible. It took years, but this is ultimately what got me 2,000 visitors/day from Google.
Monetizing blog tutorials with affiliate links was easy – I took screenshots of a few Facebook polls where SiteGround was rated the #1 host and posted these on all my tutorials related to speed optimization.
It basically says, "and by the way, hosting is the #1 factor in the WordPress optimization guide, here are screenshots where SiteGround was ranked the #1 host in 5 different Facebook polls, and they will migrate you for free." That made my SiteGround sales/conversions skyrocket.
You've done a fantastic job choosing a niche and affiliate programs. What's your advice for doing this? Where do people go wrong picking affiliate programs to promote?
They go straight for the money. I could have promoted WP Engine for $200/sale with no tier program to climb. Instead I chose SiteGround at only $50/sale (for less than 10 sales/month), and $150/month at 31+ sales/month (still less than WP Engine). But they had SO much evidence on social media supporting how they're a great host – Facebook polls and tons of Facebook conversations where people praised them. It was clearly easier to promote SiteGround as they had a better reputation, and the evidence/screenshots I collected on social media paid off big time.
I had no idea about affiliate marketing when I started my blog. It was a journey from WordPress Design to WordPress SEO to WordPress Speed Optimization until I finally found a good niche. You have to start somewhere – keep your eyes open and be open to new markets.
One thing I immediately noticed reading your blog was how you don't hold anything back when talking about how you make money online. Every one of your posts is insanely helpful and offers overwhelming value. Talk about this.
People get this idea they shouldn't give away free information or people won't need to hire them. That is entirely untrue – they will do everything they can by themselves, then realize they don't have the time/skillset to do it all. And since they picked your tutorial to follow, guess who they're going to hire? And guess who will get the links/social shares that everyone wants in SEO? It's the people who don't hold anything back.
When it comes to SEO/affiliate marketing, people want to know that you know what you're talking about. That's why I share my numbers and how I did it. I've struggled with money all my life, why wouldn't I share what I did? These are the kinds of tutorials that get me excited!
You were blogging for years and almost gave up several times. I think most people can relate to this. Then your traffic suddenly tripled in 2017 — years after you started. What do you think changed to create this spike in visits?
That was one of the best days of my life.
I made the mistake of hiring a link builder to improve my rankings for some keywords. I gave them 10 keywords I wanted to rank for and their landing pages. They built links and my rankings improved. This worked great at first, but I think Google eventually penalized my website. For two years my traffic was at a flatline. The more articles I published, the more my traffic (used to) improve. But then it didn't. I continued working on content, but no traffic improvement. I tried removing the bad links, but still nothing. I started obsessing over my tutorials and thought, "people HAVE to find this helpful, there's nothing like this out there" – I think that's when Google finally saw the value of my content and eventually lifted the penalty.
I also made the mistake of choosing a bad theme from ThemeForest that wasn't mobile-friendly and the developer abandoned it – switching to a StudioPress theme may have helped, too.
Never give up. If you believe what you're doing is making a difference, it will. Even if it takes a couple years.
Tell me about your most successful affiliate ideas — and maybe the ones that weren't so successful…
Clever keyword research was a good one. Every hosting affiliate tries to rank #1 for "SiteGround review" or "Bluehost review" and other competitive keywords. But I focused on keywords like "how to configure different cache plugins," "slow wordpress hosting on bluehost," and "slow wordpress admin panel." Keywords where switching hosts would benefit my readers, but ones that were much less competitive than keywords like "SiteGround review."
Taking screenshots of Facebook polls where SiteGround was ranked #1 was huge. Copying/pasting my sales pitches on multiple posts also made my job much easier. Choosing SiteGround instead of WP Engine (even though their commissions are higher) was a good move.
Some not so successful affiliate ideas… I thought stuffing my highest traffic posts with affiliate links would result in more sales – I quickly learned that doesn't work. People know what you're doing, and they don't like it. Plus, you're risking a Google penalty with too many affiliate links.
I also thought I could make a living referring people to Yoast's premium SEO plugin (they had an affiliate program at the time) but making $10 per commission didn't cut it. Most Facebook Groups (and forum websites) will also ban you for posting affiliate links. Don't do it.
Your posts are engaging and visually interesting. People constantly comment about how helpful they are. How do you make them so appealing? What's the "secret sauce"?
I started adding an HTML table of contents to each of my posts. This does 3 things: organizes the post, encourages you to write longer/detailed content (improving SEO) and gets you a better chance of Google awarding you "jump to" links since they can more easily understand the structure of your content.
Otherwise, it's the same strategy as SEO – Google your keyword and make your content better than whoever's in the top results. Comments will follow. Practical graphics/screenshots are also super important in my industry.
Other than SiteGround, what other affiliate programs do you promote and which do you recommend?
StudioPress, MaxCDN, WP Rocket, freelancer.com, and Whitespark are my next top 5.
StudioPress themes are highly recommended by top WordPress people – Yoast, Matt Cutts, Matt Mullenweg all use or recommend them. Their Genesis Framework is highly regarded and you can easily earn $35-$45 per sale.
MaxCDN is a content delivery which integrates with most WordPress cache plugins. If making client sites load faster is your goal, you can probably just use Cloudflare. But for those serious about speed, adding another CDN does help.
WP Rocket was rated the #1 cache plugin is a few Facebook polls and recently announced an affiliate program. I'm in the WordPress speed optimization industry, so this makes sense for me.
Freelancer.com has tons of great developers, web designers, graphic designers, writers, and other freelancers. Instead of providing these services yourself, you can refer them to a freelancer and get 10% commission off the project for the first 3 months (I believe). It's more scalable. But the money you get can only be spent on freelancer.com, not withdrawn into your bank account. But I always have development costs, so this makes it pretty much free.
Whitespark has citation building/cleanup services which is great for local SEO. It's only 10% commissions but you can upsell their services to clients since they "white label" all their reports once a project is completed. You can send this to your client and bill them for 200% of what it costs you, if you want.
Who are your online mentors and which blogs, podcasts, forums, etc. do you follow? Who's advice helped you the most when you were getting started and who do you follow today?
Brian Dean from Backlinko has some great SEO tutorials. Super detailed and practical. Pat Flynn is great but as far as step-by-step instructions go — my favorite kind of tutorials — I think Brian Dean is best.
What are some of the biggest SEO mistakes you see smart bloggers make?
A few things…
Targeting keywords that are too competitive (the longer the tail, the better)
Focusing on only a couple keywords
Using Google Keyword Planner for keyword research, this was built for AdWords (I mainly use Google Autocomplete and analyze the search results), but Moz Keyword Explorer and HubShout Web Grader are also great tools
Not Googling your keywords and analyzing content that's in the top results (researching keyword competition) – try MozBar
Obsessing over green lights in Yoast's SEO plugin
Not devoting enough time to content. I would rather spend 2 weeks writing 1 amazing tutorial than 5 mediocre tutorials. The best keywords are the ones you Google and can say "nobody is covering this topic very well"
What advice would you give to someone thinking about starting an online business making money with affiliate marketing?
Here's my advice…
Be patient. It takes time learning how to manage a website, creating great content, and getting comfortable in front of a camera (for YouTube videos).
Don't just target "review" keywords. These are usually pretty competitive, and there are plenty of other phrases where people can benefit from your affiliate's product/service.
Learn about long-tail keywords and be creative with keyword research. I've spent many hours playing with Google Autocomplete and analyzing search results to see what content is out there, or isn't.
Choose a reliable website template (WordPress theme) that loads fast and won't crap out on you. StudioPress themes are good. I see tons of businesses redesigning their website because they chose a bad theme. It's a lot of unnecessary work.
Outsource stuff. I use freelancer.com and upwork.com to outsource web development and graphic design for pretty cheap. You're better off spending time on your business.
Find time. Lots of people who start affiliate marketing already have a full-time job but know they need to spend more time if they're going to make something of it. The freedom and passive income is totally worth it. Take the leap 🙂
— Tom Dupuis | Online Media Masters | @TheDupMan
The following two tabs change content below.
Matt Thomas
As a successful online entrepreneur since 1999, I'm happy to offer you my personal experience and practical expert advice to help you start and grow your online business.
Contact me
or follow
@insidersecrets
.
Latest posts by Matt Thomas (see all)