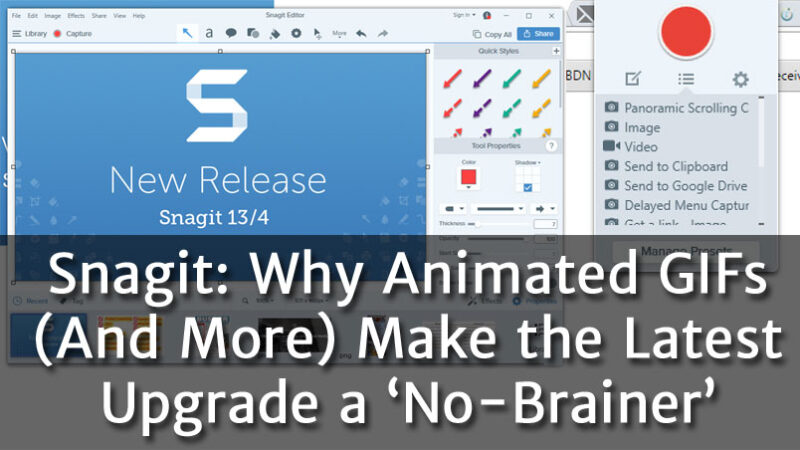 If you're unfamiliar with the major benefits of Snagit, let me catch you up quickly.
Sometimes it's much quicker (and easier!) to send a picture than words. With Snagit, you can take a screenshot or a short screen video, mark it up with notes and explanatory graphics, and paste it into an e-mail or instant message.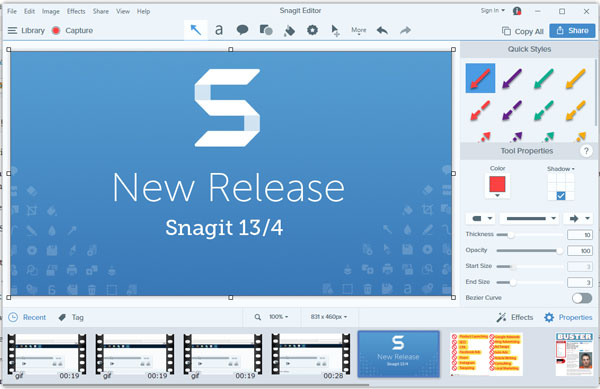 If you're a blogger, you can grab a screen shot, edit it, add arrows or text, and post it to your blog without firing up Photoshop or importing it into Canva or PicMonkey.
That's just what Snagit does – and it does it very, very well. In fact, you won't really have any idea how often you'll use it until you get going with it. Then you'll find endless uses for it. I use it a dozen times every single day.
So, along comes the newest version of Snagit (13 for PC, 4 for Mac) a few weeks ago.
I'm not really an "early adopter," especially when it comes to upgrading software to the latest version. If it's working for me, I usually stick with what I've got until it either stops working or I see features that I really want to have. I'm still using a couple of Windows programs from the late 1990s and they still work fine. I learned a long time ago that not all "upgrades" are improvements!
But… on the Snagit feature list was something I'd been anticipating for awhile: the ability to quickly make short animated GIFs.
Look, video is great. I'm the first one to jump on YouTube when I don't understand something. Video has no rival when it comes to explaining something complex, but sometimes it's overkill.
Video requires the overhead of a video player app (of some sort) that may not run on all browsers and platforms.
There's an "expense" to using video — in terms of page loading speed — and while most of the time it's worth it, for very short clips that don't require sound animated GIFs are the way to go. Plus, it's easy to make the clip "loop" so the viewer can watch until they understand the concept or problem.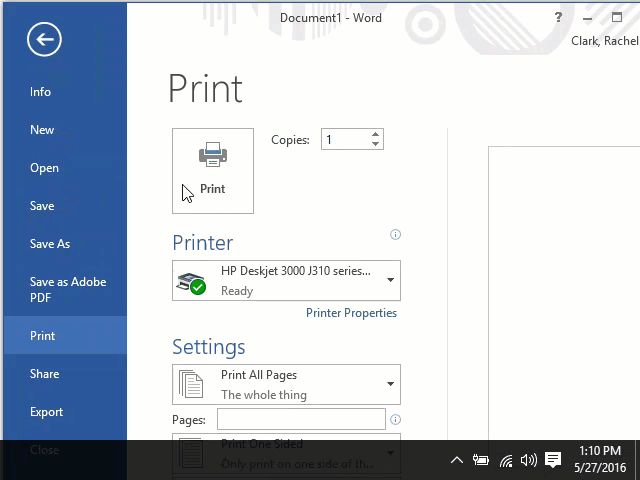 Are animated GIFs cutting edge? Nope. They've been around since the late 1980s, but that's the beauty of them. Almost every web browser ever created supports them and they are displayed on the screen very quickly.
Overall, Snagit is awesome and is "must-have" software.
But don't take my word for it. Here are how some other online entrepreneurs feel about the new version:
Snagit is now my favorite tool for grabbing screens to create tutorial content for my website. I use the built-in arrow, text and callout tools to mark up these screen grabs to explain and highlight items for how-to articles.

My favorite addition to the new version is the magnify tool. I also use Snagit for troubleshooting hardware and software. For example, I've been collecting screenshots of connection logs from my cable modem to help technicians identify connection issues with my ISP.

I also really like the support the company gives to teachers. As an Apple Distinguished Educator and former university professor, I appreciate the special pricing TechSmith offers to educators and schools.

— Dr. Andy Brovey | Portable Prof | @PortableProf
For me, the biggest win with the new version of Snagit is that it's now much more usable on a high resolution screen. The fact that the developers fixed this issue has increased my productivity dramatically.

I like Snagit because it has a pretty reasonable learning curve and it allows people like me who are not graphic artists to produce nice-looking, high quality images. In fact, almost all of the images on my web site were created using some version of Snagit.

The feature that I probably use the most is the Share feature which allows me to share an image with a variety of programs like Camtasia, Word, or even Dropbox or Google Drive. This was available in previous versions, but that feature seems much improved in the newer version.

Another feature that I really like is that you can now save preset options when capturing an image. So, I can set an effect (like a shadow or border) and have it automatically applied to each image capture instead of having to apply it to each image separately in the editor.

— Lane Slagle | Starfish Education | @em_slagle
Snagit rocks. I use it anywhere from a few times a day to literally hundreds of times a week. It helps me to capture information (i.e. snagging webinar slides), to collaborate (i.e. marking-up a product screenshot), and to create all of our marketing materials (i.e. screenshots for our website, presentations and docs).

Some of my current favorite features are those that make me faster…keyboard shortcuts, auto "Copy to Clipboard," hide cursor. And my favorite Snagit moment is definitely the seconds it took to turn an animated Powerpoint slide into an animated GIF for a blog post image.

— Jeff Freund | Akoonu | @jeff_freund
There you have it. No matter what kind of online entrepreneur you are — blogger, podcaster, e-commerce store owner — you'll find Snagit to be indispensable.
If you're using an older version, take the time to upgrade to Snagit 13 (Windows) or Snagit 4 (Mac). And if you've never had a chance to give it a test-drive, Techsmith offers a free 30-day trial. I think you'll be hooked!
The following two tabs change content below.
Matt Thomas
As a successful online entrepreneur since 1999, I'm happy to offer you my personal experience and practical expert advice to help you start and grow your online business.
Contact me
or follow
@insidersecrets
.
Latest posts by Matt Thomas (see all)