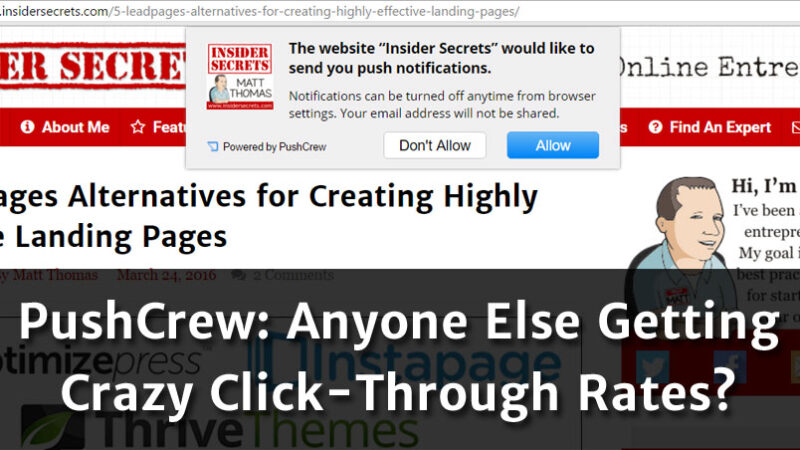 If you're not familiar with PushCrew, you're going to be hearing a whole lot more about it. It's a free service (for up to 500 subscribers) that allows you to send browser push notifications directly to website visitors who have opted-in to receive them.
When a visitor lands on your website, they see a small notification pop-up window asking if they'd like to allow you to push messages directly in their web browser. To send a message to people who have opted-in, you log into the PushCrew dashboard and create a short tweet-sized message that gets "pushed" to your subscriber's browser whether they're on your site or not. If they're not online, the notification appears the next time they open their browser.
This simple demonstration kind of sums it up (but it also has a lot of powerful features and customization options):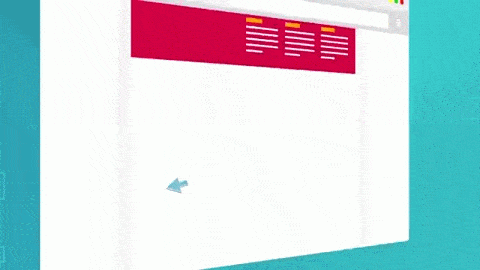 My brother, Mike, and I were talking last week and I asked him how PushCrew was working out for him. I'd seen their push notification opt-ins popping up on a lot of marketer's sites recently, and I knew he'd installed it just a couple of weeks ago.
When he told me the numbers he was getting, I thought he was joking around.
He's had almost 200 opt-ins — not bad, but those weren't the numbers that surprised me.
He's consistently getting click-through rates of 25-30% — several times higher than he's getting from his 20k member Aweber email list!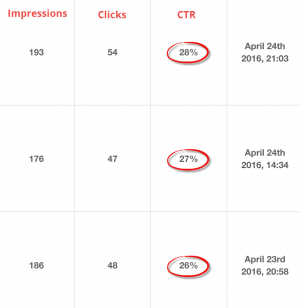 I had no idea if his numbers were typical, but they definitely made me sit up and take notice.
I don't have a lot of personal experience using browser push notifications, but how can you ignore those numbers?
To see if his experience was typical, I asked a handful of other online marketers about their experience (so far, at least):
We send a push message every time we publish a blog post. Depending on the day and copy we use, we get 11% to 15% clickthrough rates. Very effective when compared to email CTRs. Pure sales messages haven't performed as well, maybe 4-5% CTR.

— Peep Laja | ConversionXL | @peeplaja
I found PushCrew to be super easy to integrate into my blog. It took me seconds to set it up and now my readers can get their mobile fix of Blogging From Paradise as soon as I tap the "Publish" button. An 'A-Plus' service that all bloggers should take advantage of to grow their reader base.

— Ryan Biddulph | Blogging From Paradise | @RyanBiddulph
So far, I've only used it sparingly. As in, 3 notifications. But, the lowest was 21% CTR, and the highest was 37%.

So far, I'm pretty happy with it and intend to keep growing the list.

— David Risley | Blog Marketing Academy | @davidrisley
PushCrew push notifications is proving to be a fantastic traffic source with a few clicks of the mouse. Frankly I'm amazed at how many people do subscribe. I'm averaging around 50 new subscribers on one website per day.

The click through rate on messages is fairly good. It ranges from 15% to 25% for me. It's been about 24 days since I started with push notifications so I'm still figuring out which types of messages work best.

I really like PushCrew because the subscribe pop up box looks great. Moreover, I can set it to a delayed pop up. I set it to pop up after 17 seconds. 20 seconds is the longest delay.

Moreover, PushCrew makes it possible to add an image to notifications, which I've found to dramatically improve CTR.

After trying their free option for a few days, I upgraded to a premium plan so I could implement push notifications on mobile as well as lift the subscriber cap.

So far, after nearly a month of using PushCrew I recommend that everyone at least give it a shot.

— Jon Dykstra | Fat Stacks Entrepreneur | @FatStacksBlog
I just started using it recently and don't have a ton of data. I have about 500 people subscribed to it. The other day I did a push when I had a little over 300 and was pretty happy with the 24% click through rate. (see attached).

So I'm still figuring out how to best use it. For instance I'm not notifying people of offers or anything yet, primarily content (just now sent a super short survey I set up to see if it would work).

— Brad Costanzo | BaconWrappedBusiness.com | @BradCostanzo
I started using Pushcrew a couple of months ago after seeing one of my favorite content marketers, Kristi Hines, using it on her website and I think it's great!

There's 3 main reasons why I like it:

It works. It helps drive targeted traffic to your website from people who are interested in your content.
It's so easy to use and it has taken me minutes to setup!
It's completely free up to 500 subscribers!

Pushcrew can be used in a similar way to building up an email list but without all the time and effort involved in managing the list. This tool should be in every content marketers arsenal of tools.

— Daniel Knowlton | KPS Digital Marketing | @dknowlton1
Results-wise, it's a bit early to report really. I have gained 30 PushCrew subscribers since installing it – CTR of push messages is around 20% at the moment.

My early thoughts are that it will work best if used sporadically – rather than sending every blog post as a push message. I think people will be less tolerant of push notifications than they are of emails or Facebook ads, because they are more intrusive. So I'd save them for when you have something valuable to share, not to create random 'noise.'

Now is the time to get started I'd say – before the crowds arrive!

— Veronica Pullen | Social Marketing Queen | @VeronicaPullen
I've only been using it for about 2 weeks so I don't have any real numbers yet as to its impact. I'm seeing a good amount of interest in people getting the notifications and clicking, but I'm still on the fence on it's long term impact.

— Stacey Harris | The Stacey Harris | @TheStaceyHarris
I installed it a week or two ago hoping to use it for mobile push notifications, but then found out that's not included in the free version. I hadn't had much time to look into it, so I hadn't set it up. I just now set up the notifications for desktop.

It actually looks pretty cool. I was afraid a notification pop up combined with my email popup form would be a bit too much, but since PushCrew has a small popup, I think it might work out nicely. I'll be interested to see how it works.

— Kimberly Baker | Frontierland Station | @FrontierlandSta
So, the overall verdict on PushCrew seems positive with some saying that they hadn't had a chance to do a lot with it yet. It seems like the click-through rate may vary with the niche, but my brother's 25-30% doesn't seem to be an outlier — quite a few people are getting CTR as high (or higher).

I reached out to PushCrew's creator, Wingify co-founder and CEO Paras Chopra, to answer a few other questions I had. If you're thinking about setting it up on your website, there's some must read information here:
Do you have any data about the optimal notification box display delay?
Yes, we did A/B testing with notification box display delay and we had tested 2 seconds, 5 seconds and 15 seconds. Surprisingly, 2 seconds resulted in highest opt-ins and 15 seconds was lowest.
Do you recommend testing different text for title, subtitle, button label, etc. to lift sign-ups?
Yes, our other product, VWO, is all about A/B testing and testing is in our company's DNA. We don't have case studies on A/B testing titles yet, but we have an upcoming feature that'll allow precisely this. Working with PushCrew customers, we have seen that copy makes a huge difference. A simple change from "No" to "Nah, I don't want cool updates" can lift opt-ins.
What's the timeframe before we see Safari push notifications in PushCrew?
We're expecting it to be live within a month.
How much better is the opt-in rate if you just use the native browser opt-in (premium/enterprise plans)?
The opt-in for native is better converting, however we believe that it's because in native's case, many users simply click 'yes' without fully understanding it. In PushCrew opt-in, a website explicitly could explain that this is about blog posts, deals or any other piece of content it may want to send to visitors. Hence the expectation is already set.
Is there a way to "export" your subscribers if you want to migrate to a competitor's service down the road?
There is a way to export. Your subscribers are yours, if you use your certificates and keys (see below).
As ad blocking browser extensions become more popular, are you concerned that they may begin targeting PushCrew effectively disabling sign-ups (and notifications)?
It's a low possibility, but could happen. PushCrew is not an ad, rather it's a way for businesses to do a permission-based communication with their customers.
If you decide to use PushCrew, one of the most important things you can do is to set up your own Google Cloud Messaging (GCM) account. Any subscriber you gain before you do this step will not be exported if you decide to switch to a different push notification service down the road.

While PushCrew is free if you have less than 500 subscribers, the paid plans start at $25/month and give you 2,000 subscribers and many extra features (like mobile notifications and message scheduling).
Like with email list providers like Aweber, the monthly price goes up dramatically as you increase your subscriber numbers. At 50,000 subscribers, for example, PushCrew costs $750/month. But if you're driving visitors and revenue to your site, it may be well worth the cost — especially if you consider improved click-through and visitor engagement versus email marketing.
I signed up for a free account and installed it on this site. I'm excited to see how it works out. I'm going to try the free version for awhile but there are some additional features I'd like to have, especially mobile opt-in and notifications.
If you get the chance to try it out, please share your experience — positive or negative — in the comments below.
The following two tabs change content below.
Matt Thomas
As a successful online entrepreneur since 1999, I'm happy to offer you my personal experience and practical expert advice to help you start and grow your online business.
Contact me
or follow
@insidersecrets
.
Latest posts by Matt Thomas (see all)