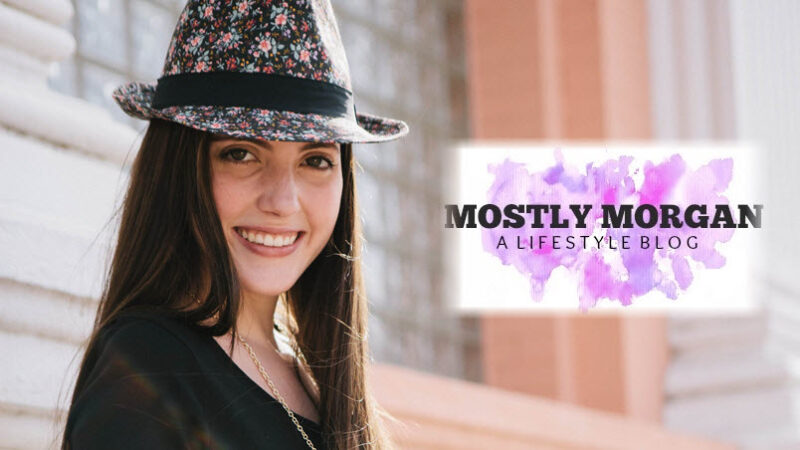 Starting a blog wasn't something 19-year-old Morgan Timm had planned on doing when she went away to college last year to study speech pathology at the University of Illinois at Urbana-Champaign. But one night as she was reading some of her favorite blogs she thought, "I can do that!" The idea for her blog, Mostly Morgan, was born.
On January 28, 2014, she registered the domain name "mostlymorgan.com," created a WordPress blog and typed her first post. In a little over a year, she's grown the site she started on a whim into a consistent part-time income, earning an average of about $500 per month (after expenses). For anyone – especially a college student – that's pretty good part-time money.
Her blog is generally about the college lifestyle and she's tackled many topics from the collegiate perspective including how to study for finals, keeping your dorm room clean, and how to pick the best workout gear. As her blog readership has grown, she's even been invited to team up with some big name brands like The North Face to offer product giveaways.
She's had plenty of inspiration along the way from successful bloggers. Thomas Frank at College Info Geek got her reading blogs a few years back and is one she still reads today. Other blogs on her must-read list include Pinch of Yum, Nerd Fitness, Barefoot Blonde, A Beautiful Mess, and By Regina. "I'm amazed by their success," Timm says.
In addition to writing helpful content geared toward her peers, having a blog also has its perks. "I do get a lot of packages from brands. Usually if I get sent something I will absolutely feature it on social media if I like it," Timm says. "I always make it quite clear to the brand that if the product is bad, I will not blog about it."
Like most bloggers, she has faced her share of writer's block. But she says coming up with things to write about has gotten easier as she's grown as a writer. She finds that, for the most part, her readers will tell her what they're interested in and that helps to focus her posts. One tip she offers is to look at your blog comments for inspiration – often you'll see reader questions and frustrations that can often translate into helpful blog post ideas.
Growing her blog over the last year hasn't always been easy, but she credits being authentic as the best way to make friends and gain followers. "A huge mistake new bloggers make when starting out is trying to be someone they aren't," Timm says. "I'm a bit awkward and quite enthusiastic, and I'm certain that my personality comes through in my interactions with my readers and other bloggers."
While she uses Facebook, Twitter, and Pinterest to promote her blog posts, it's Pinterest that drives the most traffic to her blog – in some cases over 90%. One day last summer after a Pinterest "pin" went viral, traffic to her blog suddenly spiked. She went from just a few hundred visits a day to 30,000. And while every day isn't that busy, she says that the traffic hasn't completely slowed down back to pre-viral levels.
Her traffic from other sources is slowly increasing as she begins to focus on improving her organic search rankings. After she began to get "massive traffic" from a post that rocketed to the first page in Google for a competitive search term, she's focusing more on search engine optimization. She credits a plugin called WordPress SEO by Yoast for boosting her rankings recently.
While social media can drive boatloads of traffic to your blog, it can also work against you if you're careless. "I try not to be 'commercial' sounding on social media," she says. "I want social media to be a place where readers can get to know me and reach out and talk to me if they want, rather than every post pressuring people to check out my blog." She says that the key to making a real connection is to show people the "real" you.
Like most Millennials, Timm is a digital native and uses many different online tools to make her blog work. "Investing in photography has been a game changer for me," she says. "I recently bought a Canon EOS Rebel T5i and Adobe Lightroom, and it's made a huge difference in the images on my blog." She credits an increase in Pinterest shares to improvements in the quality of the photography on her blog and "pinnable" images.
Timm is also a big fan of the online photo editor Canva. "I swear by Canva to make collages and add text to my images," she says. "They have a ton of pre-made typography pairings so you can't go wrong. Using Canva has taught me so much about creating nice images!" Canva also offers an extensive collection of tutorials to help you learn the basics of graphic design.
As she nears graduation, she plans to transition the blog as well. While some bloggers box themselves in with their branding, she has kept her options open. "The beauty of having a lifestyle blog is that it will grow with me," Timm says. "As I progress through life my blog's focus will surely shift to fit whatever adventure I am currently facing. After college I am going to attend grad school, and then I hope to travel before settling down with a career and eventually starting a family. I plan on documenting all of these stages in my life on the blog so I can hopefully help and connect with people who might be going through the same things I am."
Timm's advice to aspiring bloggers is simple: Write content that will help people. She says that while some people expect to make money right away, it can take months of consistent, hard work to make noticeable progress. By posting at least a few times a week, she suggests, you'll see faster growth than just posting occasionally or even weekly. She adds, "Until you establish a following not many people will want to read about your day, but if you can give them advice on something you're an authority on, getting readers will be a lot easier."
The following two tabs change content below.
Matt Thomas
As a successful online entrepreneur since 1999, I'm happy to offer you my personal experience and practical expert advice to help you start and grow your online business.
Contact me
or follow
@insidersecrets
.
Latest posts by Matt Thomas (see all)