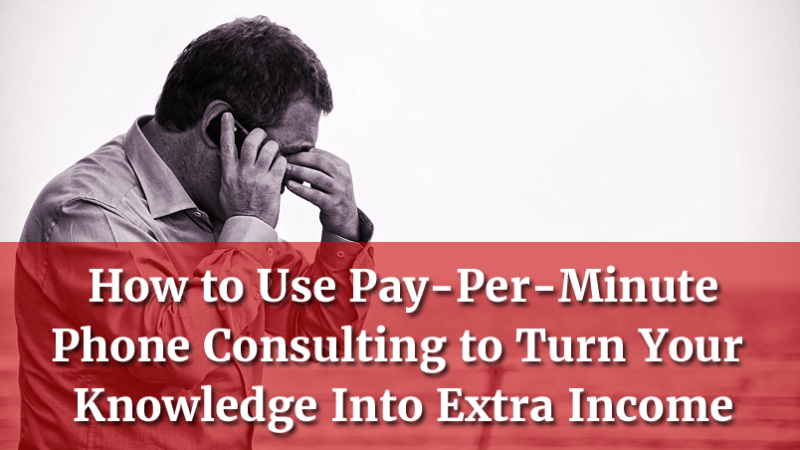 If you know how to solve a problem that someone else has in their business, they will happily pay you money to tell them exactly how to figure it out. While books, courses, and YouTube videos are helpful, sometimes clients need advice tailored specifically to their situation.
If you're thinking about turning your experience into extra money by offering coaching or consulting, one service that makes it easy is Clarity. The Clarity marketplace consists of over 10,000 independent experts who offer one-on-one telephone consulting by the minute.
And it's not just for full-time, self-employed consultants. Many experts in the marketplace work for large companies or other organizations and give their advice on the side. For example, if you're a director of marketing for a non-profit or you manage pay-per-click campaigns at work, you can leverage your skills and experience to earn extra income (so long as it's okay with your employer).
Setting Up Your Own Phone Consulting Service
Clarity addresses most of the hassles in setting up your own coaching by phone program.
Sure, you could put up a web form and send your client a PayPal invoice for an hour-long consultation. But what if the call goes over the allotted time – by a lot – say half an hour? Do you send them an invoice for the additional time? What if it runs a little short?
If you ask the client to pay up front, they may wonder if you'll follow through with the call. There are lots of unknowns.
You can avoid that awkwardness and uncertainty by using a service like Clarity that bills the client per minute for the actual duration of the call. It's clear to everyone what the charge will be and what the expectations are.
How It Works
After you sign up for Clarity, complete your profile, and get approved, you'll get listed in the Clarity expert marketplace and get access to tools including an HTML widget you can add to your site.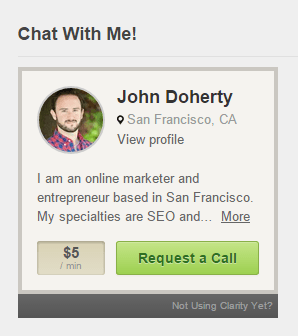 When a client wants to reach out to you, they initiate contact through a "request a call" button on your website or on the Clarity site. They pick three dates and times that work best for them and you get a notice to accept one of the requested times (or suggest three of your own as alternatives).
The phone call is completed through Clarity's network, meaning you won't have to worry about giving out your private number to a stranger (who might decide they have another urgent consulting question at 2 o'clock in the morning). Up to eight people can join the call, so you can provide consulting to several key people in your client's organization.
After the call is completed, the proceeds from the call (minus Clarity's service fee) are deposited into your Clarity account. After a two week waiting period, you can transfer that balance to your PayPal account.
Clarity does have a few ground rules, however. As an expert, it's important to be on time for the call, keep an open mind, and respect that the client is paying for your advice – not for a sales pitch. While there's nothing wrong with growing your business relationship, that step should be initiated by the client.
How Much Does It Cost?
Clarity charges a flat 15% of your per-minute fee. This means if you set your rate at $200/hour ($3.33/minute), a 40-minute phone call will cost the client about $133. Clarity will take about $20 of that, leaving you with about $113.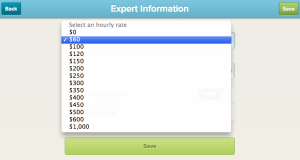 You can set your hourly consulting rate from $0 to $1,000/hour ($16.67/minute). Although there are some well-known experts who can command stratospheric rates (Mark Cuban or Noah Kagan, for example), most experts charge from $60 to several hundred dollars per hour, depending on the niche.
Zero to Hero: Getting Your First Reviews

"Remember that it is a marketplace, and that you'll be measured by your stated expertise, your reviews (eventually), and your price, relative to others with similar expertise," says Ryan Rutan, co-founder and Chief Content Officer of Startups.co, the platform of services that includes Clarity.
"Consider the types of problems your expertise helps people solve, and what a solution to that problem is worth. The more commensurate the perceived value is with your stated hourly rate, the better," he says.
While it may seem counterintuitive, offering free or low-cost consulting in the beginning may help you get the ratings necessary to justify higher rates later.
"Your first few calls don't need to be with complete strangers – utilize your own network to find people in need of your expertise," Rutan says. "Having some calls under your belt goes a long way in getting additional calls. You can overcome this Catch-22 by conducting some free calls first, so the barrier for engagement is low. Once you have a few calls with solid reviews behind you, it is far easier for people to assess the value in engaging you as an expert."
How to Get Consulting Clients
Creating a detailed profile is one key to maximizing success as a Clarity expert, says Rutan. He says that it's a way for people to quickly judge whether or not you can help solve their problem.
"Think about the outcomes you can help people achieve," he says. "People aren't seeking advice – they are seeking outcomes, solutions, and help. Present yourself in those terms. Perhaps the greatest component of the profile is the reviews, since they tell the story of how you've been able to help the people you've talked to, and strongly indicate the value you've added."
If you hope to leverage your current audience, Rutan says it's important to use the embeddable "request call" widget on your website. "Because the box is on your site where you have full control over the experience and the ability to show your value, it's a great place to convince them to engage. It's also exclusively your message – there are no competing experts."
"Including a simple text link to your profile with a call to action in the bios of blog posts or guest posts, your signature line in your email, your LinkedIn profile, and on your own site where you want to drive engagement beyond the content has a major impact," Rutan says. "Essentially, mention Clarity anywhere you promote yourself as an expert or a thought leader."
"People often want to engage further, but they are limited to LinkedIn or Twitter 'stalking' and even once they connect, there is no clear path to conversation that is worthwhile for both parties. Clarity bridges that gap," he says.
How Four Successful Experts Are Using Clarity
A wide variety of experts use Clarity to manage all or part of their one-on-one phone consulting. You can list yourself in a handful of different topic categories out of several hundred choices.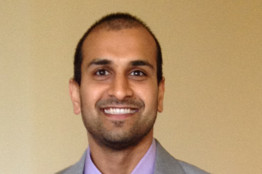 Sujan Patel of ContentMarketer.io charges $250/hour ($4.17/minute) and has done more than 75 consulting calls through the service. He's made about $5,000 directly from Clarity. He lists his areas of expertise in his profile as content marketing, growth hacking, and several more.
"I love using Clarity," he says. "I'm able to help people and provide meaningful advice to an entrepreneur in a matter of minutes or hours which I would normally charge thousands of dollars for."
Depending on your business, you can use Clarity to help generate leads and funnel clients into other products and services you offer – so long as the interest is client-initiated.
"Once you get the hang of it you can easily set up calls and earn a bit of pocket money," he says. "If you're a consultant, like me, it's also a great way to secure new clients. I've closed six clients from Clarity calls which have resulted in $300,000 in new business."
Patel cautions that providing digital marketing advice over the phone requires extra prep time for research which you should take into consideration when deciding how much to charge. "I usually spend 30-45 minutes before a phone call and then 15-20 minutes after a call sending a follow up," he says. "I don't mind spending the extra time, but I need to factor it into my hourly rate."
Experts looking to integrate Clarity into their business mix should ask questions and get some background information about the client before the call, and then follow up after the call.
"There are two things that you need to know before doing calls," he says. "You need to ask pre-qualifying questions and make sure you get details before jumping on a call."
Patel also advises spending some time choosing the right Clarity topic categories. He says each title and description defining your areas of expertise should be unique and he suggests optimizing them for search as they can be indexed by Google.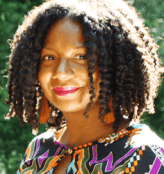 Montina Portis, a legal marketing consultant, charges $300/hour ($5/minute) to help small law firms land valuable new clients. She says coaches, consultants, and marketers can use Clarity to build authority.
"It offers a simple booking system, reviews and credibility," she says. "Clarity gives me an opportunity to bypass the 'may I pick your brain' question and provide a link with an investment that everyone can afford."
Clarity categories aren't limited to marketing. Technical topics including web design, programming, podcasting and self-publishing are also covered.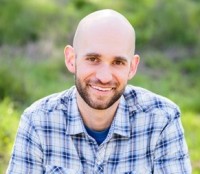 In addition to hosting the popular podcast for entrepreneurs, The Side Hustle Show, blogger and author Nick Loper offers consulting through Clarity. He charges $100/hour ($1.67/minute) for advice relating to all his areas of expertise including affiliate marketing, Kindle publishing, and working with virtual assistants.
"They give you a free call promo link you can use if you do any sort of free initial consultation calls," Loper says. "This can also be a good way to beef up the social proof on your profile."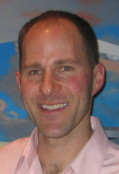 Digital publishing consultant Brian Schwartz says one of the biggest advantages of Clarity is that it can help weed out those just seeking free advice. "It does somewhat vet clients who are willing to put down a credit card to talk with you," he says.
Having successfully launched over 50 Amazon bestsellers, Schwartz charges $120/hour ($2.00/minute) for his advice. He specializes in eBook publishing, print on demand, and author publicity.
Schwartz says another advantage of Clarity is the ability to leverage your network to help qualified clients succeed. By putting your clients in touch with the right people, you can offer additional value.
Schwartz says that publishers and top ranked authors get serviced through a different organization at Amazon, for example, and often get more attentive "white glove" treatment.
"One of my clients was struggling to find a key contact at Amazon," Schwartz says. "As a follow-up to our Clarity call, I navigated through my contacts at Amazon, and he was very quickly connected with the right person which has been vital to his growth as a small publisher."
Keep in mind that customer service is important. After the call, the client will be able to rate the call and leave feedback. Like in most online marketplaces, positive ratings are essential.
"Make sure you focus on areas where you really are an expert, and only work with people you genuinely believe you can help," Rutan says. "Because reviews are such an important part of the process, you want to ensure that you are always adding value."
10 Expert Tips for Success with Clarity
Listen first!
You can't give them the best solution to their problem if you only know half their story.
Be responsive!
Don't make your clients wait. Obviously there are times when you won't be able to respond immediately, but it's important to get back to scheduling requests as quickly as possible. The longer you make a client wait, the more your rating could be impacted. Worse, a client might give you a poor review.
Give specific and actionable advice.
If they wanted esoteric theories, there are plenty of dusty textbooks they could read. Give them practical advice they can implement immediately.
Give examples from your own experience.
They picked you because you've (hopefully) "been there, done that." But you should know the difference between a story with a point and one that just makes you look good, makes someone else look bad, or just rambles on and on (and on).
Be genuinely friendly!
In his book, Blink, Malcolm Gladwell explains that in most cases patients don't sue doctors they like – even if they clearly provided bad medical care. He says that in the majority of cases, patients who sued reported being "rushed or ignored or treated poorly." Using the same logic, I believe that clients are much less likely to leave poor reviews if they like you. And the best way to have your client come away with a positive experience is to listen, provide good information, and be friendly.
Set the agenda for the call.
Make "orienting" comments. For example, you can say, "First, you can tell me about the problems you're having. Then I'll offer some advice about how I think you can overcome them."
Engage in active listening.
Learning how to listen "actively" is an important skill for a coach or mentor. For example, you can say, "Tell me more about that."
Don't be afraid to laugh and have a little fun!
This may be your third consulting call of the day, but it might be your client's first call ever. Keeping the tone somewhat relaxed helps to put the client at ease and can make the call more effective.
Don't dwell on their past mistakes.
While it might seem like common sense, the call is about looking forward, not backward. Keep the call focused on the future and don't waste a lot of time rehashing past failures.
Ask for feedback and a review.
Toward the very end of the conversation, it's a good idea to ask them about the value they got from the call. It also never hurts to mention how much you'd appreciate them completing a Clarity review.
The following two tabs change content below.
Matt Thomas
As a successful online entrepreneur since 1999, I'm happy to offer you my personal experience and practical expert advice to help you start and grow your online business.
Contact me
or follow
@insidersecrets
.
Latest posts by Matt Thomas (see all)