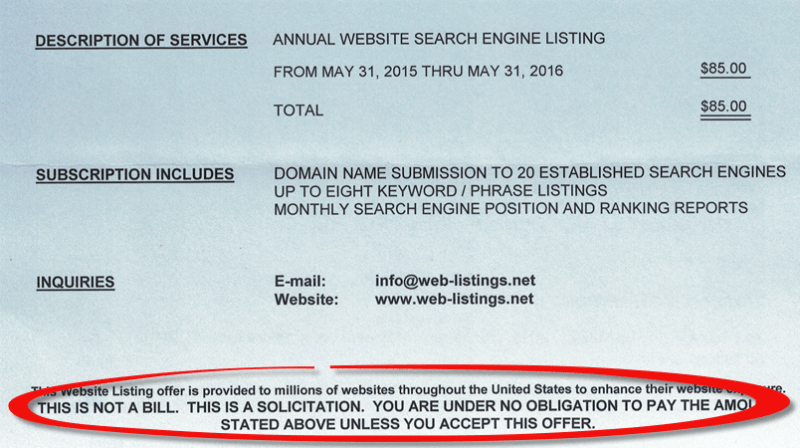 When you buy a domain name, you'll start to get solicitations in the mail. While some may be legitimate, most are phony invoices trying to get you to pay some sort of bill that you don't owe.
Some of the services include overpriced domain name renewal, yellow page listings, website directory listings, and search engine submission services. Almost without exception, they're for products and services you don't need and you should ignore them. The only correspondence you need to worry about is from your domain name registrar (and most of those come via e-mail).
Today, I received an offer from a company called "Web Listings Inc." It's meant to look like a legitimate business invoice. It was for "website listing service" in the amount of $85/year. The company purports to offer domain name submission to twenty "established search engines" and "up to eight keyword / phrase listings."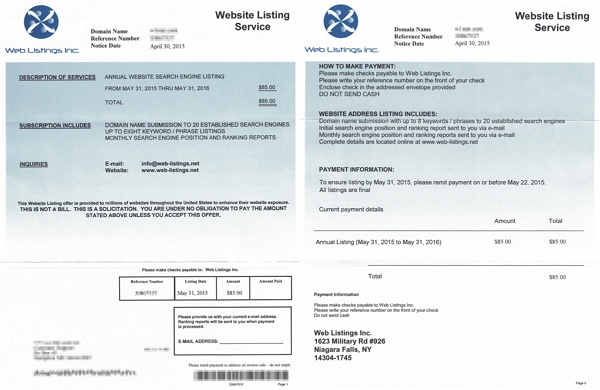 The invoice does contain the following disclaimer: "This is not a bill. This is a solicitation. You are under no obligation to pay the amount stated above unless you accept this offer." Unfortunately, the scam preys on the fact that many businesses end up just paying small invoices that look legitimate. If it costs them thirty cents to mail each letter, even with only a one percent response rate, they still have better than a $50 profit for very little work.
In fact, the Better Business Bureau of Upstate New York contacted Web Listings Inc. in February of this year asking them to "provide substantiation that their solicitation was not misleading." They didn't receive a reply.

The company's address is 1623 Military Rd. #926 in Niagara Falls, NY. It's a U.P.S. Store mailbox located in a strip mall. There is no phone number given, only an e-mail address ([email protected]).
Don't send them your money. Save yourself $85 (a year!) and submit your site directly to the three search engines that actually matter via the links below:
If this post helped you avoid falling victim to this scam, please leave a comment below!
The following two tabs change content below.
Matt Thomas
As a successful online entrepreneur since 1999, I'm happy to offer you my personal experience and practical expert advice to help you start and grow your online business.
Contact me
or follow
@insidersecrets
.
Latest posts by Matt Thomas (see all)