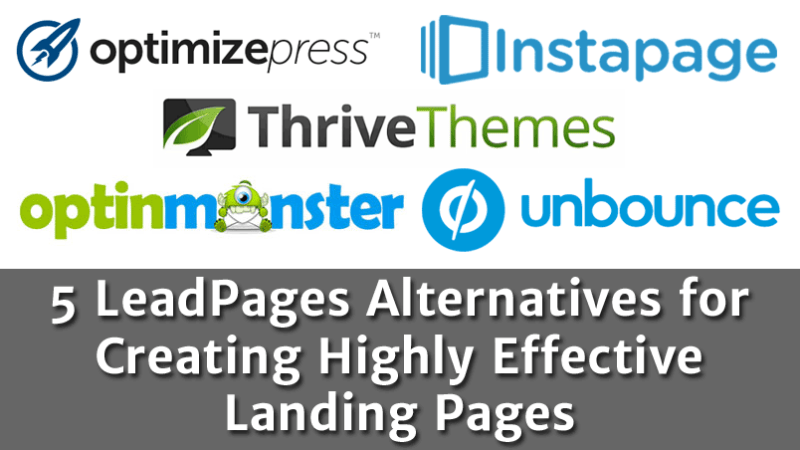 LeadPages is one of the most popular landing page creators, but at $25 to nearly $200 per month, it can be out of reach for many online marketers on a budget.
The good news is that there are a few great alternatives. While not all of them are significantly cheaper than LeadPages, some provide different feature sets which may be more attractive depending on your needs.
We asked the CEOs of five popular LeadPages alternatives to each make their case why their landing page creator is the best choice:
James Dyson, creator of OptimizePress
OptimizePress | $97 – $297 (one-time cost)
OptimizePress offers the ability to create landing pages, sales pages and membership portals from within WordPress.
"Our platform is highly flexible and customizable," Dyson says. "It also gives the flexibility to utilize our library of additional elements and designs to give your pages a unique look."
"Being built upon the WordPress platform means you also benefit from the power of the content management system to organize your content and pages, as well as having access to the library of thousands of other WordPress plugins which can add additional functionality to your sites," he says.
Tyson Quick, CEO of Instapage
Instapage | $29 – $79 / month
"Like most things in marketing, there is no 'one size fits all solution' that will work for the many unique campaigns marketers use to acquire new leads and customers," Quick says. "Instapage provides nearly 100 templates where the content can simply be swapped out to match the branding and message that needs to be presented."
Quick says that Instapage provides 100% design customization so that marketers can build the page they need rather than having to settle on a limited selection of pre-packaged choices.
"In fact, more than 300 new pages are built on Instapage per day that started as a 'blank page,' meaning no template," he says. "Our community of over 200,000 marketers constantly tests new and completely unique versions of their landing pages using our built-in A/B testing tools. Without this flexibility, the optimization potential is drastically diminished."
"There are plenty of other things that make Instapage unique such as our completely 'freemium' model," adds Quick. "However, the previous example is the most important and one that cannot be overlooked — regardless of what the competition tells you."
Rick Perreault, CEO of Unbounce
Unbounce | $49 – $199 / month
"The powerful 'drag and drop' functionality lets you create completely customized landing pages without briefing your I.T. team for every campaign, or becoming a master coder," says Perreault. "Not only does Unbounce enable you to create stunning landing pages with your brand's look and feel, but it's also the easiest way to A/B test these pages to increase conversion and ROI."
Perreault outlined what he thinks are the biggest advantages of Unbounce vs. LeadPages:
Customization: "Unlike other page builders out there, Unbounce is the most customizable bar none. Tweak templates or build from scratch. You can easily create landing pages that look as good as they perform and everything will match your existing branding. Choose from our template library, or marketplace, or start with a blank page."
Managing a publishing multiple campaigns at once: "Marketing agencies can use Unbounce to manage multiple unique client accounts. Unbounce is the only landing page builder that lets you keep client's pages, users, domains, reports, tracking, integrations, and image libraries all separate. You can even move pages from one client to another."
Improved search relevance: "With server-side Dynamic Text replacement, you can swap out select text on your landing page to match up with the exact keywords your target audience is searching for. Instant relevance – no JavaScript required."
Built-in A/B testing tools: "Optimize conversions and improve your ROU with built in AB testing tools, with live page performance tracking."
CMS/platform independent: "Unbounce integrates with your favorite marketing tools, like Salesforce, Marketo, and HubSpot to name just a few. You can also use Unbounce's Webook or Zapier to set up any custom integrations."
Campaign analytics: "With Unbounce's script manager you can add Google Analytics and custom scripts to multiple pages instantaneously."
SSL encryption: "Boost your Google ranking, gain your visitor's trust, or publish to Facebook with SSL-secured landing pages."
Support: "We're available by phone, email and live chat. Unlike other landing page builders, we don't discriminate customers by how much they pay us. From the Academy, to weekly workshops, to one-on-one demos, we want to make sure all of our customers are successful."
Page load times: "We have a 99.99% server uptime. Four data centers in New York, California, Ireland and Singapore. We have the most robust infrastructure of any platform in the industry with 99.99% uptime and full failover redundancy worldwide."
Shane Melaugh, creator of Thrive Landing Pages
Thrive Landing Pages | $67 – $97 (one-time cost); or $49 / month (agency subscription)
Melaugh says the main advantage of Thrive Landing Pages vs. LeadPages is the price difference. "Thrive Landing Pages is available for a one-time-price whereas LeadPages are only available as part of a subscription," he says. "Even if you sign up to become a Thrive member, you get our Landing Pages plugin along with many other tools and themes at a lower price than the LeadPages subscription."
"Perhaps more important is the question of ownership," says Melaugh. "Thrive Landing Pages are hosted on your WordPress website, on your hosting provider. You really own this content and the pages are never removed or deleted by us."
Another big advantage lies in the editor, he says. "In LeadPages, you can edit or tweak many different aspects of your landing pages, but in Thrive, you can change, add, delete or move anything you want. You aren't constrained to the template you use."
"For example, you can take a page template that doesn't have a video element and simply add a video wherever you wish," he says. "In short: you have a lot more flexibility and freedom of design when using Thrive Landing Pages."
Syed Balkhi, creator of OptinMonster
OptinMonster | $49 – $199 / year
While OptinMonster is more of a dedicated solution for creating lead generation forms like pop-ups and sidebar forms, Balkhi outlined some of the advantages of OptinMonster vs. Leadpages:
Multiple form types: "OptinMonster offers multiple form types (lightbox, slide-in scroll boxes, floating bar, sidebar forms, after post forms, etc) whereas LeadPages only offers a leadbox popup."
Template choices: "All of OptinMonster forms comes with several template choices whereas LeadPages popup box designs are limited."
Flexibility: "OptinMonster forms can be used with all website pages because we simply add on top of the page. LeadPages forms are meant to be used on the landing pages that you create with LeadPages."
Targeting: "OptinMonster allows you to control who sees which form on your site. For example: a user visiting from Facebook sees a different offer vs a user visiting from Google. A user visiting section A of the website sees a different offer vs a user visiting section B."
Triggers: "OptinMonster offers multiple triggers to load the optins such as time-based triggers as well as action based triggers such as scroll detection, MonsterLinks, and exit-intent."
Analytics integration: "OptinMonster integrates with Google Analytics which allows you to see a more comprehensive analytics of your optins as it relates to your website vs LeadPages built-in analytics are secluded to the individual landing pages."
The following two tabs change content below.
Matt Thomas
As a successful online entrepreneur since 1999, I'm happy to offer you my personal experience and practical expert advice to help you start and grow your online business.
Contact me
or follow
@insidersecrets
.
Latest posts by Matt Thomas (see all)