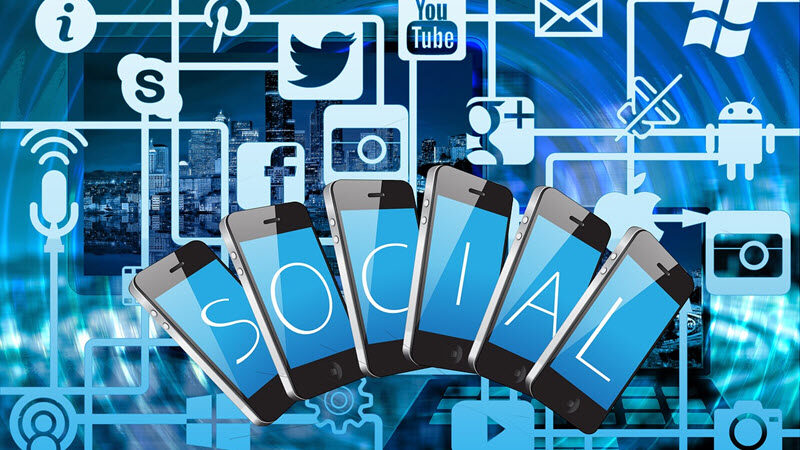 Have you been wondering why your social media strategy is not working? We may have the answer…
The No. 1 reason why most business's social media strategy is not working is simply… that they don't have one.
(And no, a post calendar in a social media scheduler is not a strategy).
There is a world difference between having an actual social media strategy and just a post schedule.
Let's dive into how to create a sound strategy for your social media so you can attract and convert more leads rather than just racking up empty views and likes.
What is a strategy?
Most startups doing social media fail to answer the basic questions: who their target audience is and why they are posting. Not knowing your target audience or the goal of your social media campaign (and how each post brings you closer to achieving this goal) means that you are not able to create a proper marketing funnel, monitor KPIs and adjust your activity based on the results you're getting.
So: before you post anything on your social media, you should answer the following questions:
Where? What? Why? How often? …and When? …you should be posting.
Here are the 5 steps you need to follow to create an effective digital content strategy for social marketing:
1. Decide which social media will be best for your business
Not all social media were created equal…for all businesses.
Before you decide to invest your time in posting on social media, answer a few questions about your business:
Who is your target audience? People use different social media depending on age, gender and interests:Facebook is used by both men and women, and it's most popular with 25 to 55-year-olds, with the most dominant age 25-34. So, if you're targeting teenagers, Facebook may be already too old-school for them! According to marketing firm Blue Corona, it's best for Fashion, Auto, E-commerce, Retail, Entertainment, Real Estate, Marketing, Sports, Health and Wellness, News and Information industries.
What industry are you operating in?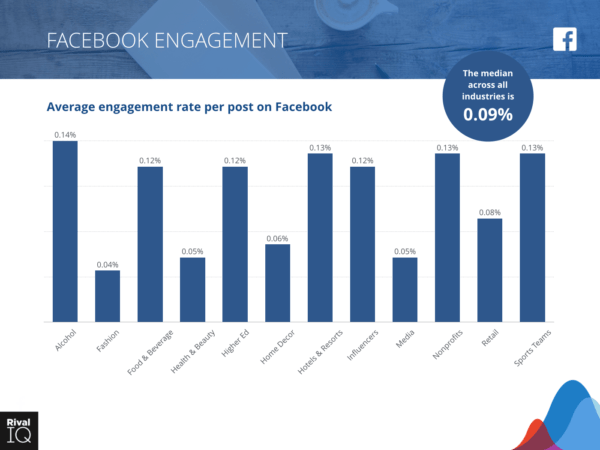 As you can see, posts about food, education, travel, sports, as well as posts by influencers garner the highest engagement rates on Facebook.
What about Instagram and Twitter?
You can check more in-depth engagement statistics for your industry on RivalIQ's website (2019 Social Media Industry Benchmark Report) to decide which social medium you should spend most time on – and include in your social media marketing strategy.
Here are some engagement-by-industry stats for Instagram and Twitter: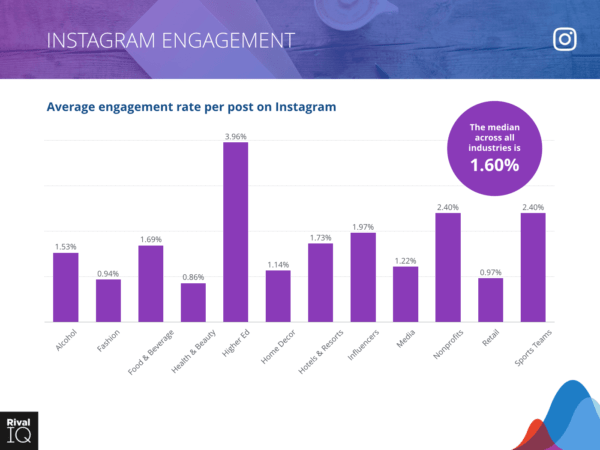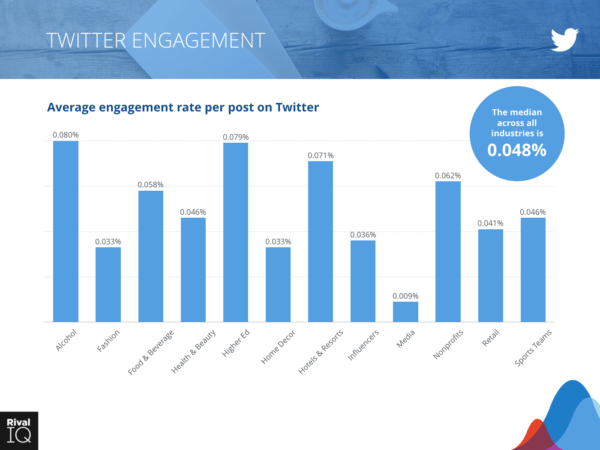 2. Check what your audience really wants to read
Knowing your audience well (aka having a clearly defined ideal customer avatar) is the bedrock of any successful social media marketing strategy.
How can you check the preferences of your audience?
1. Use social media analytics to measure engagement with different posts
Analyzing real-engagement data will help you make an informed decision what to post based on the real reactions of your audience to different types of content. If you're using a social media scheduling tool, you can compare insights across different social media. With Postfity analytics, you can browse your audience activity (likes, shares) across different channels at the same time:
2. Ask your target audience
Last but not least, make sure you ask your target audience what they would most like to read on a given topic and include their preferences in your digital content strategy.
On the basis of the previous steps, brainstorm a few content topics on a particular subject.
Then: ask your own audience, find relevant forums, Facebook groups and LinkedIn groups that include your target audience, use the right hashtags on Twitter to conduct a short survey:
What topics around a particular subject they are most interested in;
What types of content (posts, videos, infographics) they would like to consume on that topic
How often would they like to hear from you
3. Experiment
There's no better way what your target audience really likes than A/B testing different types of content.
How to A/B test the same piece of content?
Try posting the type of content at different times and see when your audience engages more
Re-purpose blog content into infographics or longer 'microblog' type posts and see what brings more engagement
Re-purpose content into live videos and normal videos, see what brings more engagement
Try different language and wording – maybe your audience wants you to be more personal?
Try posting photos of people with your posts
Prioritize content that brings the highest engagement
What to post on your Facebook Page for the highest organic reach? Organic reach on Facebook pages is in decline. According to BuzzSumo, Facebook engagement declined by 20% from January to July 2017. This went down even further since January 2018, when Mark Zuckerberg announced that Facebook was limiting the number of posts from business pages people see on their walls. According to Wolfgang Digital, the organic reach declined by a further 34% since then.
With talks of new Facebook timeline changes coming in the future, it's important to have an organic reach strategy that surpasses algorithm changes.
Organic reach of posts depends on the kind of posts you publish on your Facebook pages.
According to Buzzsumo, the best type of post for organic reach is, as follows:
Video – the best video length is 3-4 minutes
(No need to have 20 minute live videos!)
Question
Photo
Giveaway
Links and coupons
Naturally, Facebook doesn't want you to take people away from Facebook – so external links will be at disadvantage.
What to post instead? Include call-to-actions (CTAs) in videos or post links to external websites in comments rather than in the body of your post. That way you will not be reducing your post reach.
3. Create content that is aligned with your business goals
Knowing your 'why' is critical to your social media strategy's success. Tyler Hykes, founder of Optimist, grew a 7-figure business off the back of a well-structured content strategy corresponding to different business goals:
Evergreen content – thoroughly researched content that provides a lot of information and high value to the reader. It does not go out of date, hence it's a great SEO tool for driving traffic to your website. If you do proper keyword research and competitive analysis, evergreen content will help your website rank better. While your blog should be the backbone of your evergreen content, you can repurpose evergreen posts into Facebook posts with infographics, providing a link to the original piece (you can experiment with direct linking vs. embedding the link in the infographic).
Social/ viral content – e.g. interesting or funny videos, memes, gifs. Anything related to your topic that builds a relationship with your audience goes. Include clear calls to actions to boost engagement.
Link-building content – content aimed at providing backlinks to your site.
4. Post the right number of posts per week
Social media ain't for the faint-hearted. Posting consistently once a day, 7 days a week is going to give you highest engagement rates per post. For the highest overall engagement, the optimal number on Facebook is 3-5 posts per day. Of course, to take the stress off of this you can easily schedule your content in advance using a social media scheduler like Postfity.
Don't go over 5 posts per day as it will dramatically lower your engagement. Social media may label you as spammer. Quality always wins over quantity.
5. Post at the right time
Another important aspect to consider is when to post: getting the timing right can have a massive impact on your engagement rates.
How to get the timing right though?
First of all, you need to check in your insights where the majority of your audience is from – and adapt your posting times to the most-active time in their timezone.
What if that falls in the middle of the night for you? Use a social media scheduler to plan your posts.
The best time to post on social media is quite universal: it may surprise you but people are most-active on social media during work hours: between 11 a.m. and 2 p.m. (local time).
The best days to post on social media are Wednesdays and Thursdays. It seems people are most-bored with their work mid-week.
Stay away from evenings and weekends if you're looking for high engagement rates.
To review, in order to create an effective social media strategy you need to know:
Where to post – best social media for your business
What kind of content your audience wants to see
Why you are posting – what kind of content is aligned with your business goals
How often you should post
When you should post
Hope this helps – let us know in the comments how you go about planning your content for social media and if you have any silver-bullets to share!
The following two tabs change content below.
Emilia Korczynska is a content expert who is passionate about content marketing. She is a marketing strategist at
Postfity.com
, a social media scheduling app, making social media marketing easier & more affordable for small businesses.
Latest posts by Emilia Korczynska (see all)