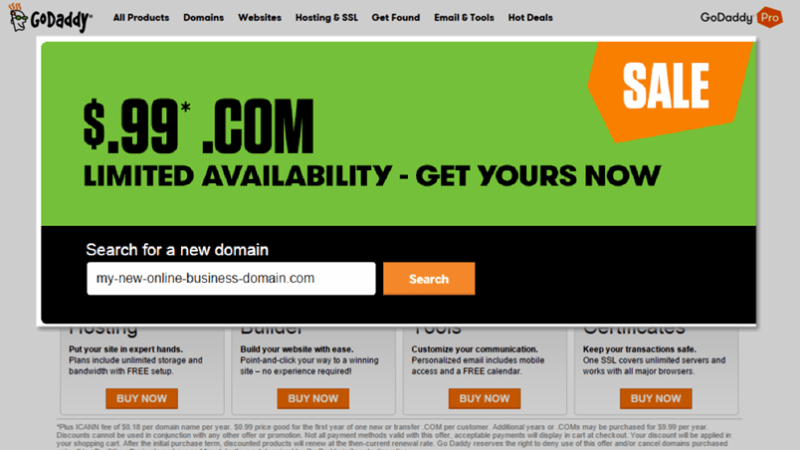 Sometimes an idea for an online business comes to me on a whim and I want to grab the domain name. Because only a small percentage of these projects go forward, it's important to acquire it quickly and without a lot of investment — at least for the first year. That way, I can simply let it expire if I decide it isn't a project I want to continue working on.
Every time I go to register a domain name at GoDaddy, I do a quick search for "godaddy coupon codes" or "godaddy promo codes" to save a little off the $9.99 per year registration fee. I just don't like to pay retail!
It used to be pretty easy to find 30% off domain name coupons, but then I discovered that by using a little trick I could consistently get my domain names for just $1.17 without a coupon code.
GoDaddy now advertises an unbeatable 99 cent domain deal ($1.17 total after fees) on Google Adwords, beating the coupon code sites at their own game. The catch is, they obviously don't want to make it easy to find. If you just visit GoDaddy's website, you won't see this deal. But if you do a Google search for "godaddy 99 cent domains" — there it is, right at the top!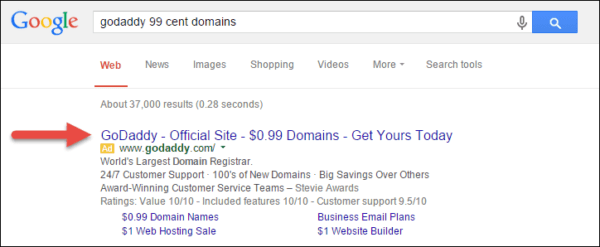 Click on the link, and you'll land on a domain registration page. Enter the domain you want to register, and click "search."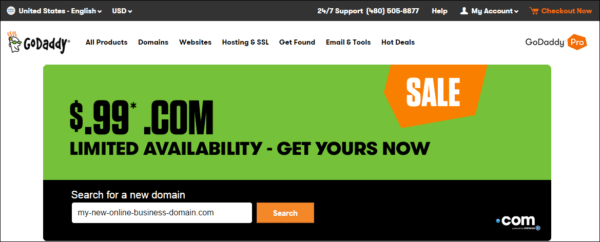 If your domain is available, click "select" and then "continue to cart."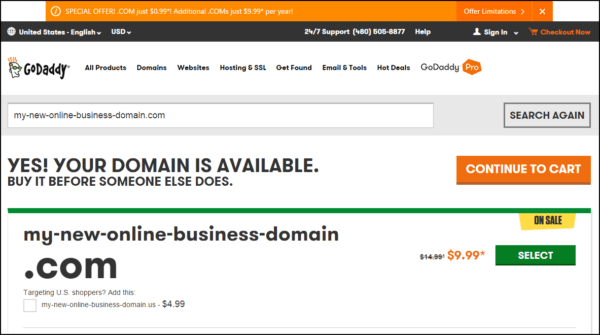 Just say no to all those add-ons — you just don't need them. Scroll down and "continue to cart."
Now you'll see a page showing a domain registration term of 5 years for $41.85. Click the dropdown and change it to 1 year for $1.17.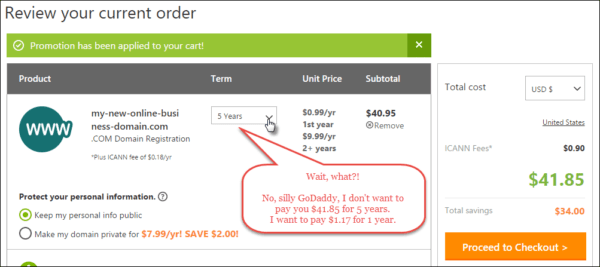 There, that's much better! Now you can "proceed to checkout" and finish the transaction.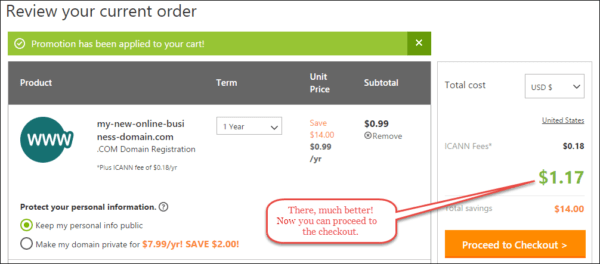 After you take advantage of this deal, you might be tempted to register another domain (or two, or three) for the same great deal. If you just repeat the process, you won't see the same deal again. But there's a way around that, too!
After you buy the domain for $1.17, log out of your GoDaddy account and clear your browser cookies. Then you should be able to repeat the process and the same promotion should appear again when you follow the link from Google. You can use this technique to register quite a few names at a very affordable price!
Did this work for you? Let me know in the comments below.
The following two tabs change content below.
Matt Thomas
As a successful online entrepreneur since 1999, I'm happy to offer you my personal experience and practical expert advice to help you start and grow your online business.
Contact me
or follow
@insidersecrets
.
Latest posts by Matt Thomas (see all)