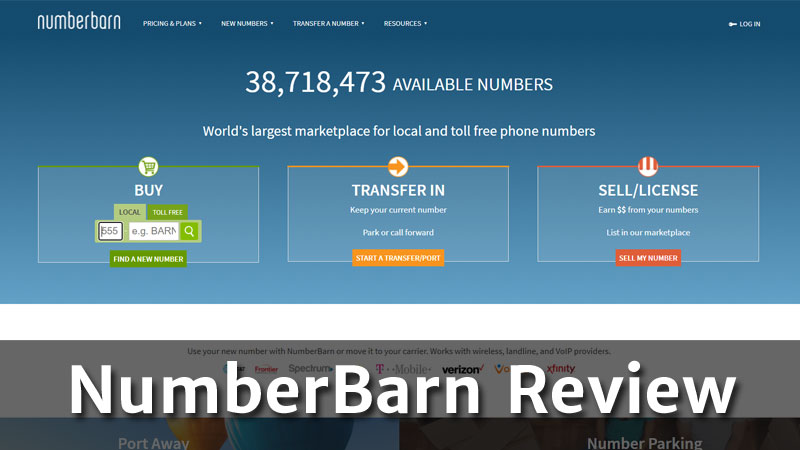 What is NumberBarn?
NumberBarn allows you to inexpensively purchase US and Canadian local and toll-free numbers to use in your business. You can also "port" in a phone number you have now and "park" it inexpensively.
With NumberBarn, you can control exactly how a call to each number is processed. For example, you can automatically forward it to another number or send it to voicemail. You can also create an auto-attendant and set up rules about how calls are handled.
One of the biggest things that makes NumberBarn stand out from the competition is their phone number search functionality. It is very easy to find a phone number that matches your needs.
How much does NumberBarn cost?
Buying a phone number at NumberBarn is very similar to buying a domain name and web hosting. First you pick and purchase (or license) the phone number you want in their marketplace, and then you decide what service you'd like to associate with that number.
Buying a Phone Number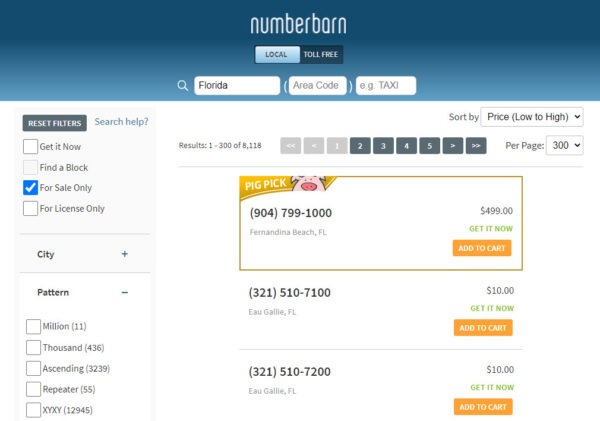 NumberBarn offers two types of phone numbers: local and toll-free. Local numbers start with area codes (like 212 for New York City and 415 for San Francisco) and may sometimes be a toll call, especially from a landline phone. Toll-free numbers start with 800, 888, 877, 866, 855, 844 and 833 and are free nationwide. At NumberBarn, only local numbers can send and receive SMS (text) messages, so if that's part of your plan you'll need a local number for that.
The vast majority of local phone numbers at NumberBarn are available for a one-time fee of $5. Sometimes local numbers that are memorable may be priced a little higher. But the price goes up (sometimes precipitously) from there. Phone numbers in high-value industries can fetch $20k or more (for example, the New York City number "(917) DEN-TIST"). Some numbers can be rented (or "licensed") for a monthly fee in lieu of a large upfront investment. Like with domain names, there is a choice for every budget — but it's wise to make a smart investment early instead of paying to reprint your marketing materials later.
Newer toll-free numbers start at a one-time fee of $5 and go up from there and numbers beginning with "800" start at $74.99 due to their perceived premium value and lower availability. Many vanity toll-free numbers and those with highly valued features such as repeating, ascending or descending digits often require monthly licensing fees. But if you use NumberBarn's powerful search functionality, you can often find overlooked premium numbers at rock-bottom "buy it now" prices. Definitely take some time to get creative and look for these diamonds in the rough!
Monthly Plans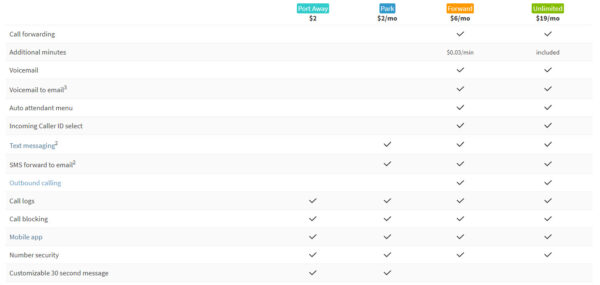 NumberBarn offers four plans: Port Away, Park, Forward and Unlimited.
Port Away Plan
The Port Away plan costs $2 and allows you to buy a number at NumberBarn and port (transfer) it to another provider. It's not meant to be a month-to-month plan, but rather a 30-day parking plan while you transfer a number out to your cell phone company or another carrier.
This is a good time to note that because NumberBarn numbers are technically considered "wireline" numbers, you cannot transfer numbers directly to services that only accept "wireless" numbers (most notably Google Voice and Cricket Wireless). In those limited cases, they must first be transferred to a mobile provider (so that they become "wireless" numbers) and then onto Google Voice or Cricket. Luckily this is not a concern for most carriers, however.
Porting away a number to another carrier is only available for phone numbers you've purchased. It is not available for numbers that you're licensing (renting).
Park Plan
The Park plan costs $2 per month and is the least expensive month-to-month plan. You can purchase a number for use with this plan through NumberBarn, or "port" in your current number for $5. This plan allows you to set up a 30-second custom greeting and offers unlimited texting via the NumberBarn website or app. You cannot set up an auto-attendant, forward calls to another number or receive voicemail. While it's true that this plan is meant mostly as a place to "store" your number, depending on your needs it may be all you need.
For example, if you're just looking for an extremely cost-effective way to give people the ability to communicate with your business via text message (without giving out your cell phone number), consider the Park plan. For a one-time fee starting at $5 to buy a number, and just $2 a month thereafter, you can have unlimited texting via NumberBarn's website or app. It's a great way to add another route for your clients to reach you. While you won't be able to receive voicemails with this rock-bottom plan, you can leave a 30-second custom greeting indicating that this number only accepts text messages and letting them know other ways they can reach you.
Call Forwarding Plan (300 minutes or unlimited)
NumberBarn's Call Forwarding plan costs $6 per month for 300 minutes, and $19 per month for unlimited. The primary feature is right in the name: you can create an automated auto-attendant system that will forward the call to the phone number (or numbers) of your choice based on the keypad number the caller presses. Everyone is familiar with this type of system: "Press 1 for sales, 2 for support, 3 for…."
Other included features in these two plans include voicemail (which can be automatically sent to the email address of your choice), and outbound calling which lets you use NumberBarn's dialer app or website to make outgoing calls using your custom telephone number.
Who can benefit from using NumberBarn?
Solopreneurs
It's tempting to just give out your cell phone number, but it's much better to use a dedicated business phone number that gives you more control. By using NumberBarn's Forward or Unlimited Plan, you can have complete control over how a call to you is routed.
Here's the bottom line: you can give people your cell phone, and then answer it or not answer it and let it go to voicemail. Or you can use a memorable local or toll-free number in your marketing and have it answered automatically with an easy-to-customize interactive voice response (IVR) system that educates your customers and gives them options.
For example, in addition to being able to press "1" to speak with you, they could press "2" for your business hours, press "3" for directions to your business, or press "4" for pricing. Plus with NumberBarn's call logging feature, you can see a list of who called your number and then reach out and follow up with potential customers even if they didn't leave you a message!
Using a toll-free number and IVR elevates your business's image. It immediately sets you apart as being the professional, organized choice — not just a random "anybody" with a cell phone.
Podcasters
Interacting with your audience is important, and one of the best ways to do this is to offer an easy way for listeners to interact with your show. With NumberBarn, it's very easy and inexpensive to create a voicemail box for listeners to leave a message. That message is sent in .wav format to your email, making it easy to use in your audio editing workflow.
Marketing Agencies
When launching a new marketing campaign, it's nice to be able to track where the lead has come from. Using an inexpensive dedicated phone number which you can forward directly to your client allows you to track where the leads are coming from and can even open the door to pay-per-lead billing.
Shopify / eBay / Etsy Sellers
If you have a small Shopify store or are an eBay or Etsy seller, it's tempting to do customer service only over email. But displaying a phone number (especially a toll-free number) builds customer confidence that your store is legitimate. Even though most people will never call it, just seeing that there is a way for them to reach you (and that you're confident enough to advertise it) makes them feel more comfortable giving you their credit card number.
Overall Recommendation
If you're looking for the easiest way to get the phone number you want for your business complete with a virtual phone system, look no further than NumberBarn. The setup process couldn't be easier or more straightforward. For the vast majority of solopreneurs, this is exactly the solution you need.
Last updated: September 22, 2021