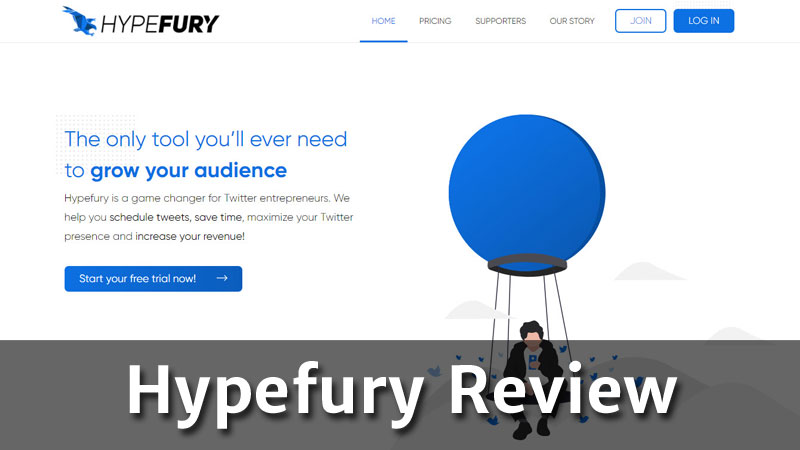 What is Hypefury?
Hypefury is a Twitter management tool focused primarily toward entrepreneurs. In fact, one reason why it was created was its founder was frustrated that it was very difficult to schedule tweet threads.
Hypefury is a web app, which means there is no native iOS or Android app to download. Everything is stored in your online account and you can access from a desktop computer or mobile device.
What do people like about it?
Evergreen Posts
Sometimes you create tweets that are always relevant to your audience, like inspirational quotes and other content that doesn't have a "shelf life." You can set Hypefury to automatically retweet this content randomly on a regular basis, as often as once a week, when there is an empty "slot" in your schedule.
One interesting feature is called Quote-shot which lets you create an attached quote image on-the-fly.
How much does Hypefury cost?
Hypefury offers two plans: a Standard plan and a Premium plan.
The Standard plan is $19/month which includes all the standard features including the ability to schedule unlimited tweets and threads and schedule retweets from both your account and other accounts. Other key features include the ability to automatically repost your best tweets, upload your tweets in batches in CSV format, and sharing tweets easily to Instagram.
The Premium plan is $49/month which includes all the features of the Standard plan, but the ability to import your tweets each day, run a Gumroad sale on autopilot, and detailed statistics.
Both plans offer a 7-day free trial.
What are Hypefury alternatives?
Hypefury vs. Buffer
Hypefury vs. Socialbee
Hypefury vs. Zlappo
Hypefury vs. Skedlo
What do the experts say?
'I highly recommend it and use it nearly every day'
"HypeFury has quickly become one of my essential tools as it allows me to schedule RTs and threads," says Ryan Felman of Path to Manliness. "It's a massive time saver and allows me to schedule retweets in batches."
"This reduces the time I spend on Twitter which makes my day more efficient," he says. "It also tracks your most liked tweets and will let you schedule them with its Evergreen tool so you can have a steady stream of tweets going out, even when you're not online."
'When I first saw this tool I didn't think I needed it'
Online marketer Chris Hughes says he likes how Hypefury helps him create tweet threads. "Making a thread on Twitter is kind of frustrating because you have to enter and then respond to your tweets.," he says. "You can paste in an entire paragraph or even a blog post and it will separate it for you."
While he was initially skeptical, he's changed his mind. "To be 100% honest, when I first saw this tool I didn't think I needed it," Chris says. "That seems to be the case with a lot of things in life. You don't really know what you're missing out on until you start using it."
'I'm starting to see the power of the Evergreen library'
Adam Dukes, online marketer and creator of The Dadpreneur, says he thinks one of Hypefury's biggest strengths is in building up your Evergreen library. "There's a lot of power in sharing tweets that already have engagements, that already have that social proof," he says. "Sharing those tweets again and again and again."
According to Adam, he sees the Evergreen feature as one of the keys to the success marketers are having with Hypefury. "There's a couple people I follow that I'm like, hot damn, how do they have 500 retweets on that tweet? It's because they use that tool!"
"If you want to save a ton of time building up a Twitter following, I definitely recommend checking it out," he says.
'Consistency is the key'
Digital entrepreneur James Willett says growing a Twitter following isn't a big secret and really just requires implementing a system. "How I grew my Twitter account by over 3,000 followers in 2 months? I picked 3 core topics, scheduled 5 tweets a day with Hypefury, and engaged with other accounts I admire," he says. "That's literally all I did. Consistency is the key."
Joe Bloom: "The single best autopilot tool for Twitter out there right now."
Overall Recommendation
Hypefury is a focused tool created to meet a need. If you're selling courses and ebooks through Gumroad on Twitter, the extra capabilities make Hypefury especially appealing. Support is another feature often cited by those offering high praise for Hypefury.
If you're not a power user, the added features of the more expensive $49/month Premium plan probably don't justify the extra expense. At $19/month, the Standard plan provides almost all of the important features and should be enough for most beginners. You always have the option to upgrade later.
➡️ Next: View Hypefury Plans and Pricing
Last updated: October 12, 2022