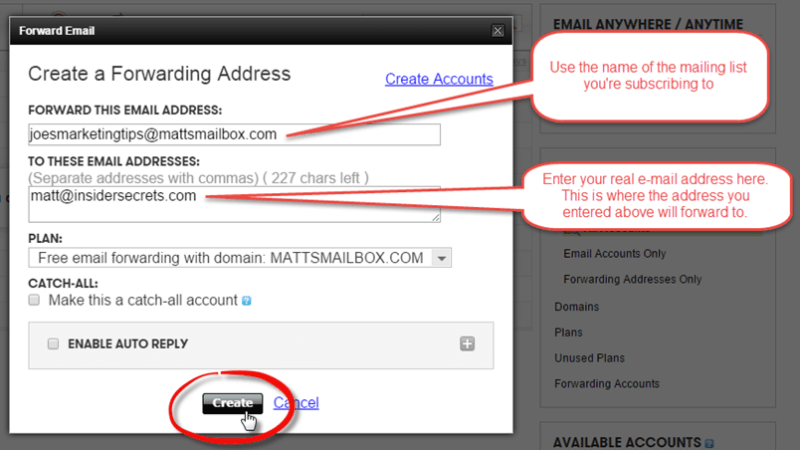 Like most online marketers, I often join e-mail lists. Sometimes it's because I want to get free e-books, information products, or some other kind of "lead magnet," and other times I just want to see what other marketers are doing. In fact, watching how an expert online marketer uses their mailing list is a good education by itself.
Some marketers think that once you've given them your e-mail address, they have your permission to sell or rent it to their business partners. I signed up for a mailing list once and noticed that I'd been added to the mailing lists of several similar businesses. While each one used a mailing list service provider that gave me an easy way to unsubscribe, I had to do so for each new list. I later found out that my e-mail had been shared with an entire thousand-member trade association! That's a whole lot of unsubscribing.
Most online marketers are ethical. But when you're subscribed to enough lists, eventually your e-mail address is going to be sold, rented, or stolen. And once your real e-mail address gets on a bunch of junk mail lists, it's almost impossible to stop the avalanche of spam.
Luckily there is an easy solution to this problem. The best choice is to create "throwaway" e-mail addresses just for signing up for mailing lists. By using a separate domain name that's completely under your control, you'll be able to easily add throwaway e-mail aliases that forward to your real e-mail account.
You can set it up very quickly — let me show you how it works.
Step 1
First, go to GoDaddy and grab a domain name for $1.17. It doesn't really matter what the domain is — you're not going to use it for anything other than forwarding mailing lists, forum registrations, etc. I use "mattsmailbox.com" because it's easy for me to remember. You can use the word "mail" in your domain but don't use words that might trigger a filter like"spam" or "junk."
Step 2
Log into your GoDaddy account control panel. Press the "+" next to "EMAIL" to expand the box. Next to "EMAIL FORWARDING – 100 PACK," click the "Set Up" button. Confirm that it's set up for the domain you want and then exit back to the control panel.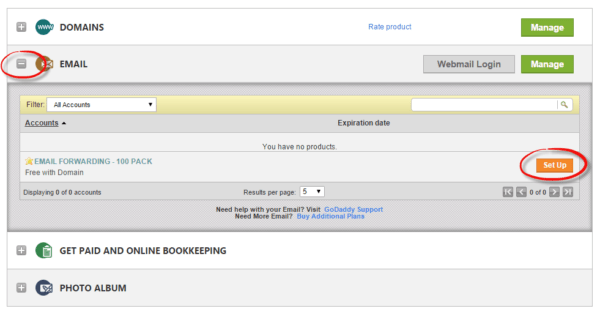 Step 3
Now click on "Manage" in the e-mail section of the control panel.

Step 4
Once you're in GoDaddy's e-mail manager, click "Create Forward."

Step 5
A popup box will appear. This is where you create your throwaway e-mail address. If I'm signing up for Joe's mailing list called Joe's Marketing Tips, I'd create a forwarding address "[email protected]" and then choose to forward it to "[email protected]" in the box underneath. Click "Create" and the new address is set up.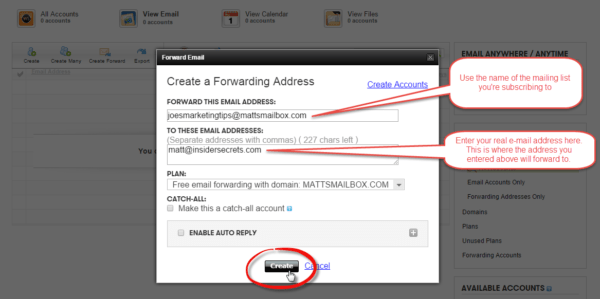 Now you can see the new e-mail forwarding address you've created (and all the other active forwarders in your account). GoDaddy includes 100 forwarding addresses with each e-mail, so you'll have plenty of addresses to use for subscribing to different lists.

You can bookmark the web address below and it will take you directly into this e-mail manager where you can add and delete forwarding addresses:
Every time you want to subscribe to a mailing list, you can quickly go here and add a forwarding address just for that list. After you create the "throwaway" address, you can use it to subscribe to the email list.
If you start getting unwanted mail to one of your forwarding addresses, just go into the control panel above and delete the the forwarder associated with the list. Poof! No more junk mail.
Now you can join any lists that interests you without worrying that your e-mail account will forever be clogged with marketing junk mail.
The following two tabs change content below.
Matt Thomas
As a successful online entrepreneur since 1999, I'm happy to offer you my personal experience and practical expert advice to help you start and grow your online business.
Contact me
or follow
@insidersecrets
.
Latest posts by Matt Thomas (see all)