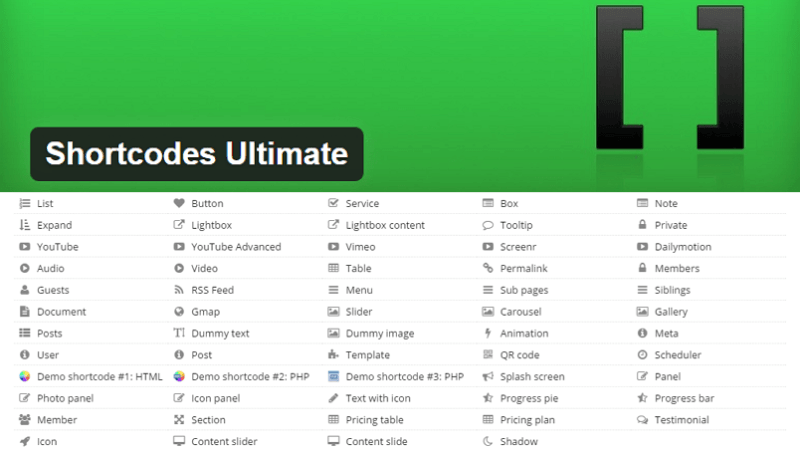 While some of the fancier (and more expensive) WordPress themes include the built-in ability to add attractive design elements directly into blogs posts, most do not. By installing a WordPress shortcode plugin, you can get much of that functionality without having to switch themes.
Shortcodes Ultimate is one of the most popular all-in-one shortcode plugins. It includes over three dozen different shortcodes you can use in your posts to add things like tabs, buttons, boxes, sliders, responsive videos and more. Best of all, it's free.
Adding shortcodes to your content is straightforward. After you install the plug-in, an "insert shortcode" button is added to your WordPress visual editor. Pressing the button gives you multiple options and allows you to fine-tune the settings.

Here are some samples of the different types of content styling you can create with Shortcodes Ultimate:
Customizable Image Slider
Embedding image sliders into your posts can be a pain. With Shortcodes Ultimate, it's easy to select photos from your media gallery and create a very attractive image slider slideshow. Each image can link to content on your blog or elsewhere on the web.
Headings
While WordPress includes basic functions to create headlines, sometimes they aren't as visually pleasing as you'd like.
You Can Choose From a Variety of Styles to Make a Nicer Looking Heading
Tabs
First Tab
Second Tab
Third Tab
Creating tabs can allow you to fit a variety of information is a small space. You could use tabs to show features and benefits of a product or profile individual company employees.

It's easy to add a variety of content to each tab including text and even photos!

The tabs can be styled in a variety of ways with built-in color schemes. You can also select which tab is active when the page loads.

Spoilers
Sometimes when you're reviewing something, you need to include information that your reader might not want to see. By using a spoiler, you let the reader decide whether or not they want to see your message.
Accordion Spoilers
A variant of the spoiler is the accordion spoiler. It's very similar to a regular spoiler, except it offers you the ability to add several different spoilers that open up, or "accordion,"
Highlighted Text
Sometimes you want to  highlight something important in your post. You can even change the color to anything you want — even bright neon pink !
Quote Boxes
If you do interviews, you will often include quotes in your posts. This plugin makes it easy to add them.
Now is the time for all good online business owners to transform their boring posts with Shortcodes Ultimate.
Columns and Rows
If you've used WordPress for any length of time, you've figured out that it's not really easy to create columns natively in WordPress. Using Shortcodes Ultimate, you can create columns for your content quickly and efficiently.
With Shortcodes Ultimate, it's very easy to create columns of text. You can choose between several column sizes.

You can use this technique to break up text — don't be boring! It's amazingly easy to do.

While many themes have this function built in, there are many that don't. Now you can add premium functionality to your basic theme with a free plugin.

Buttons
You don't need to use an image to create  a cool looking button for your website. You can drop a shortcode in your posts to create interactive buttons.
Make a Cool Button
Or Another Cool Button
Or Even Another!
Content Boxes
Content Box
Content boxes are a great way to focus audience attention on some piece of specific information. As with most of the other shortcodes, you can customize text and background color to match the look and feel of your website.
Note Boxes
Note boxes are another way to focus attention on specific pieces of content. It's so easy to add these and they make your posts look more professional.
Video Lightboxes
Sometimes you don't want to embed a video directly onto your site. You can use a video lightbox display the video.
Click Here to Watch the Video
Google Maps
You can embed a Google Map into your blog posts using just the street address. This is much easier than going to the Google Maps website and copying/pasting an embed code.
QR Codes
You can generate a QR code that can link to any URL you choose. For example, you could use a QR code to link to an app from your blog post and encourage your readers to download it.
Premium Add-ons
Although there are several dozen effects offered by the free plugin, those willing to pay for an upgrade can get cool features such as testimonial boxes, pricing tables, pie chart graphs, and more.
One of the premium features is time and date triggered content. You can use this shortcode to display certain content based on the day of the week, month, year, etc. For example, this text will only show on Wednesdays (which is soup day). At least according to the song….
Recommendation
I have been very impressed with Shortcodes Ultimate. It replaces a least half a dozen standalone WordPress plugins with a single, well-organized one. While sometimes it's best to choose a plugin that's made for a specific task, I don't like how having too many shortcode buttons clutter the editor interface.
Shortcodes Ultimate provides all the important styling functions in one place. If you want to add more styling to your blog posts, look no further.
WordPress Plugin Directory: https://wordpress.org/plugins/shortcodes-ultimate/
Developer's Site: http://gndev.info/shortcodes-ultimate/
The following two tabs change content below.
Matt Thomas
As a successful online entrepreneur since 1999, I'm happy to offer you my personal experience and practical expert advice to help you start and grow your online business.
Contact me
or follow
@insidersecrets
.
Latest posts by Matt Thomas (see all)